Creating a Minecraft skin is a complicated but not impossible task. It's a type of game, where you can customize anything including your character's skin. It will help you enhance the game's visual effect and gaming experience. Minecraft skin is just an image file (PNG).To create the skin of your desired choice, you have to edit and save this PNG. The edited image then gets folded around the Minecraft 3D model, giving it a new appearance. It fit specifically on the model according to its subparts; arms on arms, face on the face, and so on.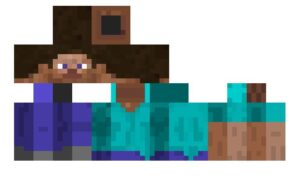 Types of Different skin editor
There are many types of Minecraft skin editors are available online which we use to create our skin. These editors are popular because they make the process of skin creation very easy. They use the Minecraft model as a canvas, this helps creators to see the final skin quality immediately and they can make further changes accordingly.
Although there are different types of editors are available in the market but Minecraft has yet to release its official editor. But these editors are free and easy to use because Minecraft skin is just a PNG image and these editors have basic editing tools like pencil, brush, and undo tools. If we talk about skin packs, the simple and basic ones are available free. But if you want an updated and advanced skin pack, you have to purchase it. After comprehensive research and interviewing a lot of Minecraft gamers, we have listed down here, best and easy-to-use Minecraft skin editor for you.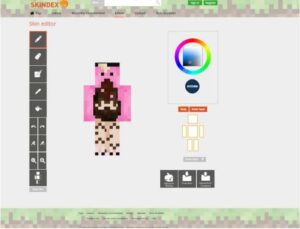 It's the best skin editor tool for Minecraft. It has a variation of colors and tools like source duplication for easy and fast designing. This tool offers not a very advanced but a moderate level of designing. The layers are skins are also very easy to distinguishable. The transition between slim and classic modes is also very easy and we can also enhance the contrast with the dark color tool. Zoom in option is used to do the designing at the micro-level. You can also select the auto tone option for better design. There is a color palette used for appropriate color selection.
Tools function
Pen: It paints only single-pixel at a time and it's one by one square.
Color selector: It has a circle with all types of colors in it for designing. The square in it the circle has different shades of the selected color. The numbers below the circle are a code the represents the type of color you have used.
Noise Tool: After selecting the color, when you drag the pen, it makes the shades of that color.
Undo/redo: Undo brings back the last pixel you painted and redo put its back.
Mirror limbs: It very helpful tool. It makes the designing of skin very easy. After selecting this you can just copy anything on one arm or leg on another arm or leg. This creates the exact symmetrical design on both arms and legs.
Zoom in and out
Fills: It fills the complete side of one part of your skin.
Upload to Skindex: To see the skin on the screen of SKindex
Hide/Show: It hides the part of the skin that you want to hide. Your work will be automatically saved.
Change models: This is used to make a transition between two models; Alex and steve. Steve has arms of 4 pixels wide and Alex has arms of 3 pixels wide.
Open file: For opening or editing the skin for designing.
Outer layer: It hides the part of the outer and inner layers. The outer layer includes hats .gloves and sunglasses.
It's a very easy and simple tool for designing Minecraft skin. It's also available free and recommended to use for beginners.
It's a more advanced editor and has plenty of editing features, unlike other editors. We can create more advanced and better skins with detailed editing. The contrast, exposure, and tools are way better than other editors. In this, we can also preview and edit 2d images and the shape gradient tool will help us create the shape of your choice. It has also the mirror tool, which helps us create the same design, created in one arm and leg. Its other tools are image layers support and scroll wheel UI control. You can also set the brightness, contrast, highlights, and saturation with the help of different tools.
It also offers the feature of 2D animation and Girds toggle support. You can also distinguish between the image layer and zoom in or out according to the situation. After editing you can easily export the skin in your Minecraft settings. But users found its UI more complexin than other editors. Banner ads were also missing in this editor. There is also no redo button and hex color support.
It's a bit more simple and easy as compared to other editors. All the basic editing tools are present in this editor. From hex color selection, switching between classic and slim modes to clear distinction to models layer and a better design there are all designing tools are present in this. Its Grid help in making the process of color applying more precise and accurate.
But if talk about advanced tools, it surely lacks some of them. You can not elect the different poses to see how your skin would look outside of the standard pose. The Auto-tone color option was also missing. It's easy to use but makes the designing process more lengthy because mirroring effects are not applicable in it as the mirror tool is also missing.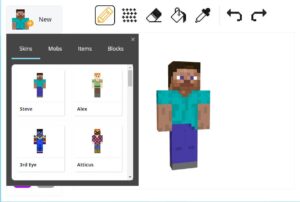 It comes with a distinct feature of Texture brush which enables a designer to apply color with very little variation. These color variations make the surface a bit exciting. This one is the simplest of all and very easy to use. So it would lack features like hex scheme color, mirroring tool, zoom in and out, and more advanced features. It has also very simple interference and you will not see any ads on it. You have to create your account on Tynker to save and export your design on pc.
What to choose?
It solely depends on your requirements and preferences. We have plenty of options from basic to advance. We have summarised the pros and cons of each editor for your better understanding.
If you want more in-depth editing with simple and easy designing then Skindex is the perfect option for you but If you need a simple, ad-free, and extremely easy editor, you may go for Kynder editor.
If you are looking for a simple interference but more powerful editing tool, then definitely choose Minecraft skins. If you had tried using all these and want to go with more advanced and detailed edition tools then Nova skin is the only best option for you.
After analyzing the strength and weaknesses of all editors, you can now easily select the desired editor. All these editors are best and easy to use. You can have a better understanding after using them. For more information, visit https://sildursshaders.com or go back to our homepage.
How to add Skin in Minecraft after designing
Step #1: Open the Minecraft Launcher.
Step #2: Navigate to the skin option at the top of the page.
Step #3: Select the new skin button
Step #4: It will open the folder and now you will have to select the Skin PNG, you have created in one of the editors.
Step #5: Now select the file and add it to Minecraft.
Step #6: Congratulation, you have your skin in Minecraft.